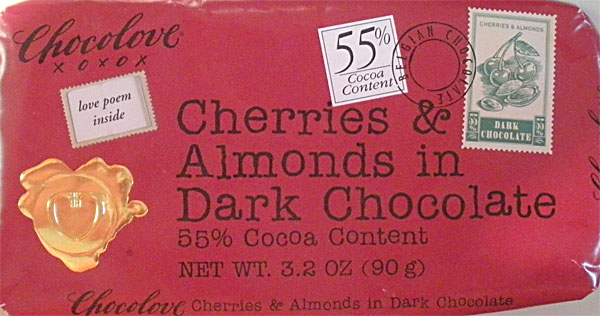 Chocolove: Chilies & Cherries in Dark Chocolate
September 11, 2008 - chocolate
This is helluva nice bar – great balance between the chili peppers and the intensely sweet cherries.
If you'll recall, these guys from Boulder made an Almonds & Cherries bar we reviewed (and liked), so our first question is: are these Michigan cherries? Or they from somewhere else?
Never mind the cherries – it's the smoky, sexy anchos and chipotles that make this bar rock. You take a bite, you feel the smooth chocolate coat your tongue. Then, you realize there's cherries occupying the higher, sweeter end of the spectrum here: chewy, sweet and subtly tart. Finally, the chilies creep in and take over the back of your mouth and throat. It's one of the closest to a perfect bar we've had in a while. Definitely a repeat purchase.
Here's the fun reviews – this is what you really wanted to read, isn't it? Two year old: as chewing: "good… (pause) …a little spicy… spicy… bad spicy… I don't want more."
Four year old: "a little spicy, sour, tastes like hot sauce." We didn't realize (or actually think) she knew what hot sauce tastes like.
similar stories