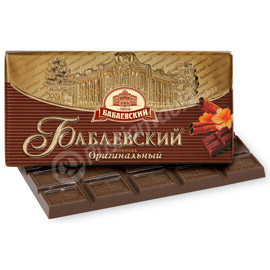 Gvardeysky Chocolate (Babaevsky)
February 27, 2009 - chocolate
Well, the wrapper says chocolate, and it tastes like chocolate. So… it is chocolate? (Gosh we're suckers for awkwardly translated food products.) Here's a chocolate bar all the way from Russia, 'produced, packaged' by Babaevsky Confectionery Concern in Moscow, who appear to have been making chocolate since 1804. Admit it, Russia is probably not in your top five list of geographic areas associated with chocolate. But fear not, this actually a pretty good bar.
It seems to be dark – I'd guess about 50-60% cocoa – and it's fairly creamy and smooth. Its taste is even and simple, a little nutty, even a touch of darker berry or cherry.
As I've discovered with most foreign foods, a fair amount of entertainment can be derived simply by reading the label. Typical for European products are the ingredients and comments translated into several languages, but on this one: Russian, German, English, Ukranian and Kazakhstan? The ingredient list is even more odd: 'natural identical flavor'?
So, next time you're in the CIS, pick up a bar of Gvardeysky and let us know what you think!
similar stories