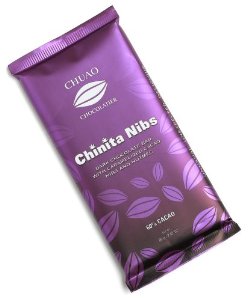 Chuao Chinita Nibs
May 14, 2009 - chocolate
In a word – yummerific. Ok, so I'm a little biased: I (heart) Chuao chocolates – I have yet to be disappointed. Throw in caramelized cacao nibs, nutmeg into dark chocolate and you've got a winner.
Bonus: girls in the three- to five-year-old category appreciate the shiny purple wrapper. How can you go wrong?
A 60% cocoa mix of Venezuelan single-origin chocolate, this bar rocks. A light, fruity initial flavor gives way to a middle-note nutmeg, and as the chocolate dissolves, the caramelized nibs emerge for textural contrast. The finish is not bitter but complex, and the nutmeg fades slowly away to reveal more berry and earthy notes.
In short, a clear winner. Definitely on the buy again list.