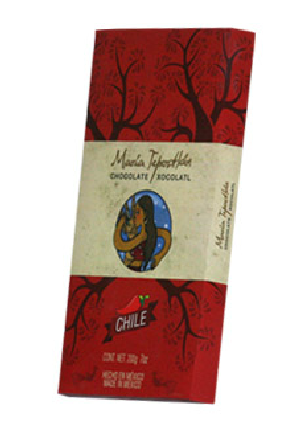 Maria Tepozteca Chocolate Xocolatl (Chile)
August 7, 2009 - chocolate
Picked this interesting chocolate up while down in Cancún, Mexico. Marketed as a traditional, Aztec-style chocolate, this massive 200g bar had me at "Chile."
"It tastes sweet and a little bit spicy. And, it feels smooth and good." – 5-year-old.
This really is quite interesting, both from taste and consistency perspe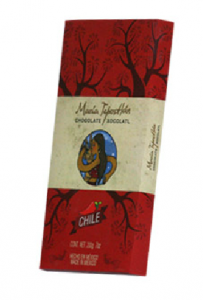 ctives. The mouthfeel is not at all like the typical dark chocolates – it's gritty, and the ground cocoa is crunchy – almost like eating a Nestlé Crunch bar. It's almost as though this is an anti-Lindt chocolate: it's not overly sweet, indulgently smooth and obviously fattening. The initial taste is bitter and waxy, and as the chocolate melts and you crunch some chiles, more chocolate favor is imparted, on the wave of heat from the peppers. I was a little put off from the initial bite, but after the next few bites, more of the chocolate comes through.
Ingredients listed are simply "70% cacao, sugar, chile, lecitina [soy lecithin]." It's wrapped in a wax paper wrapping, and the outer wrap brands it as part of the line of "Maria Tepozteca" line of chocolates, despite that name being absent from the rest of the wrapper.
So, despite the fact that it doesn't actually say so on the wrapper, I am led to think this made in a more traditional style, more Aztec-xocolatl-ish. Either that, or this is  weirdly-made? Mexican chocolate.
UPDATE: I'm wondering if this is their version of a traditional, stone ground made chocolate? It's disappointing that there's no further information on this available anywhere. I contacted the company directly; we'll see what their response is.
Comments