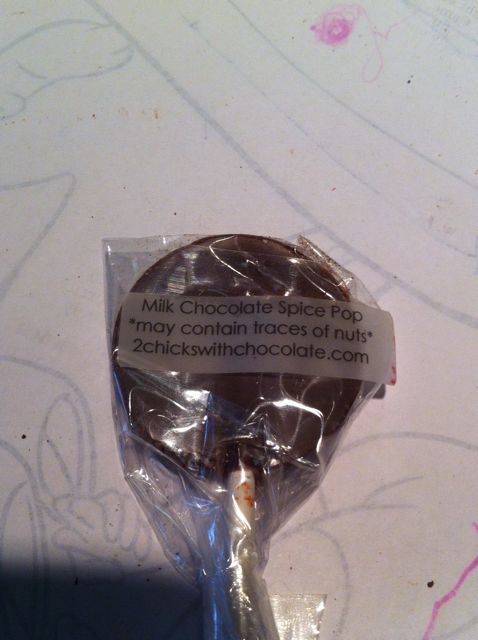 2 Chicks with Chocolate – Cocoa Tiles and Chocolate Pops
August 5, 2010 - chocolate
As regular readers are probably aware by now, I'm on a simple quest to try and find the best spicy chocolates I can find. Dark, milk, whatever, as long as it's gots some of dat heat!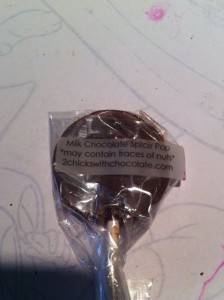 So, I spent the last weekend in Atlantic City at the Food & Wine show, surrounded by free samples of crabcakes, beer, wine, more wine, more beer, spicy barbecue sauces, more wine, and, (wait for it) chocolate.
Down the back aisle from my booth, were a group of chocolate ladies handing out free samples, led by an awesome chick named Elyissia. When asked if I would like to try some chocolate, I responded by asking if they had anything spicy. One of the girls handed me a milk chocolate pop – a truffle-sized chocolate on a stick, with beautiful red and gold flecks. One bite, and twenty seconds later, I'm overcome with a blissful sensation of creamy milk chocolate interspersed with cinnamon and cloves, a playful bite of ginger and the warm reassurance of cayenne. Then, to smooth things out, there's the sensation of sea salt.
Let me tell you, these little suckers are simply awesome. But wait! There's more! (inside joke…)
The chicks at 2 Chicks with Chocolate, from northern New Jersey – yes, that is their name, and they are awesome – make the same chocolate in an even more convenient and addictive bar size – packed in a box called, unobtrusively and deceptively simply, Cocoa Tiles. Intrigued? you can visit them online.
While they are not as visually stunning as the flecks on the pops, you get all the flavors, and get to enjoy them a little longer than the pops. And, a minor correction: the spicy chocolates are in fact called Spicy Tiles.
Now, I'll be the first to admit, I'm partial to darker chocolates; I think they're best at around 60%. But these are milk, at 38% cocoa. But in this case, I think the creamy milk fares better, especially with the sea salt on the finish. I'd be really interested to try a similar mix with darker chocolate – it'd be more austere, more earthy, and I think it'd have a wider spectrum of flavors…
I also managed to get a Signature Collection box, full of yummy chocolates, but my true favorites were the spicy tiles and pops!
I hope I run into these ladies again at the next food-oriented show!