Dagoba Lavender Blueberry 59% cacao
May 3, 2010 - chocolate
I tell you folks, if you're in a store somewhere, and they sell chocolates, and they carry some or all of the Dagoba line, you need to pick one and try it. I happened to be in the Hershey's store in Times Square (yeah, I know, but that's another story) and quietly hiding on an endcap somewhere were some of Hershey's other prized possessions: Dagoba and Scharffen Berger chocolate bars!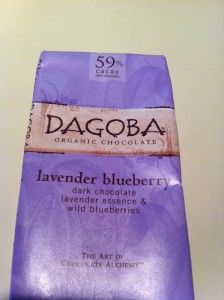 Yes, dear reader, Hershey's owns Dagoba, and has since 2006? 2007? (Note: and Joseph Schmidt, too) Dagoba represents a nice organic trophy for their collection – I would imagine Hershey dare not tear it down and replace it with some slick over-marketed Special Dark/Dove amalgam of chocolate atrocity.
Anyway, on to the more interesting topic: this chocolate. We've had a number of Dagoba chocolates, some more interesting than others, and some, like the organic single origin line, have very distinctive flavors. This one, with its fruity floral focus, is just okay. I know, right? Weird hearing me say a chocolate is just 'okay?'
Well, it is okay – it's got a fairly good consistency and decent mouthfeel; the lavender is not overbearing, and the bits of blueberries are not too big or chewy. It's in the right league of cacao levels – we like it in the upper 50s to mid 60s. So, it's okay enough to enjoy. But it doesn't knock my socks off. And that, dear reader, is the whole point of our pathetic part-time journey: to find a chocolate that knocks my socks off.