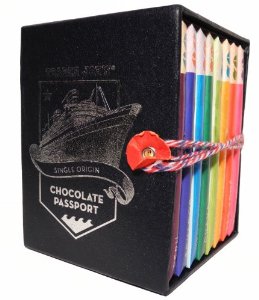 Trader Joes Chocolate Passport
December 23, 2012 - chocolate
In a word: yummy! In two words: yum-my!
An attractive, blue box with eight small (45g) bars of single origin chocolates, to serve as an exploration of tastes and textures from a wide variety of cocoa-producing regions: Ecuador, Guatemala, Venezuela, Peru, Dominican Republic, São Tome, Tanzania and Papua New Guinea are the chosen representatives.
All are in the sweet spot of dark chocolate, around 60% to 70% cocoa. No surprise, but I think my favorite is Venezuela. What makes this more fun and interesting is comparisons between two regions – such as Venezuela and Papua New Guinea – dark and floral to bright and fruity – for example.
Now we just to find something like this with single sourced peppers and spices to determine the ultimate spicy chocolate…